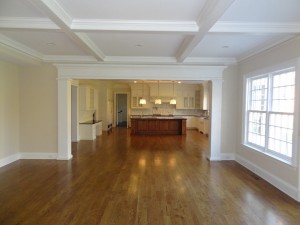 When it comes time to redo the look of your home, there are many things to consider. A functional and aesthetic lynchpin in remodel is floor. Floor remodeling requires you to evaluate the look, intended use and light of the space. A professionally installed floor can last many years and provide value and comfort to your home. Regardless of the material, lighter colored flooring are more in demand as people seek to make their existing rooms feel brighter and more natural.
Home floor types include carpet, laminate, hardwood and tile. In recent years, carpet has fallen out of favor for most floor remodeling projects, owing to a shorter span before it shows its age and more complicated maintenance needs. It can be harder to clean and quickly shows wear that other flooring would hide for longer.
More common flooring options are hardwood, laminate and tile. Hardwood can also be difficult and complicated to keep looking new and clean, and is often expensive to purchase and install. Well installed laminate flooring provides many of the benefits of hardwood at a lower cost, allowing you get more out of your floor remodeling budget.
If you are working with a more modest budget, laminate flooring may be the best choice. With a professionally installed pad beneath it, laminate can deliver the look of a hardwood floor while providing an easy-to-clean moisture barrier. When doing floor remodeling with laminate floors there are many looks from which to choose, giving you different options for every room in the your home.
If you have a little more capital to invest in your floor remodeling project, you could consider tile. More difficult to install, tile can be laid to create nearly any look you desire, including the appearance of hardwoods or marble. Tile floors are easy to clean and hold up to heavy use more readily than other floor materials, giving you more back on your investment. Tile flooring should especially be considered in high-traffic, heavy moisture rooms such as entryways, bathrooms and recreations rooms.