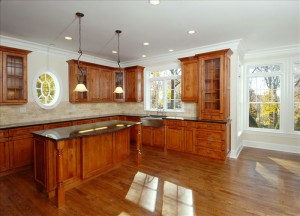 Kitchen cabinets have evolved over the years into something much more that utilitarian storage spaces. While storage is an important part of their design, beautiful custom cabinets add beauty to your kitchen and increase the overall value of your home. Someone who specializes in building cabinets can help you achieve the perfect balance between form and functionality in your kitchen space.
A skilled craftsman who creates kitchen storage spaces works with your kitchen's aesthetics in mind. By having cabinets fashioned specifically for your home, you won't have to settle for mass produced cabinets that are usually less than stunning. Working with a construction artist and communicating what you want your design to say, you can collaborate to produce custom cabinets whose attractiveness you will admire for years to come.
While beauty is important, the usefulness of your cabinets will make them truly invaluable to you. Getting the most from every inch of storage space is more important than ever since more people these days enjoy spending more time in their kitchens preparing food and entertaining. A design that makes the best use of the available space and facilitates easy access to cookware, dishes, glassware and utensils will make any additional costs well worth the expenditure.
Making a personal statement with your kitchen space may not seem like a huge deal, but you will probably come to appreciate it as you live in your home for years to come. Relate your ideas to the cabinetmaker and specify exactly what you want so that custom cabinets that are unique to your style can be created. The cabinetry in your home reflects your sense of style in a way that no other area of your home can quite match.
Custom cabinetmakers add a sense of value to your home that is truly remarkable. By combining great looking finishes, trim and hardware with a great design idea that fully utilizes your space, the right cabinets can make life in your kitchen a truly enjoyable experience.