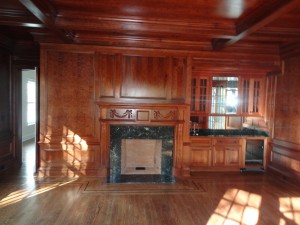 Getting tired of that damp, musty basement? You know the one. When it rains really hard, water seeps up through the floor and it floods. When the waters recede and it dries out, it smells musty and dusty. You can't keep any nice rugs down there, and you and your family pretty much avoid it when you can because well, it's just kind of a mess. The good news is, there is something you can do about it. Next stop: a finished basement.
Dehumidifying
It is the moisture in the basement air which establishes a habitat environment which can sustain mold, and that's naturally something you want to avoid. This is why dehumidifying is an important step to finishing and remodeling your basement.
Waterproofing
To keep water from coming in to dampen and make dreary what might be a bright, beautiful finished basement, a reliable vapor barrier between your home and the elements is necessary. For example, this could be a solid (non-porous) cement-like material placed behind the insulation which should help keep the space warm and dry.
Costs
There's more good news. Generally, it costs considerably less to remodel and finish a basement than it does to build an entire new addition to your home. The price might even be cut in half, so it's smart to take advantage of that and give your already existing basement the TLC it needs.
Opportunities
Picture it: the kids are off from school for a long weekend, and you all go downstairs to your new screening room to watch a movie and celebrate. Or, maybe you get that in-home gym you've always wanted. Need space for a new guest bedroom? Well, now you have it.
There is so much you could do with a finished basement, and you and your family deserve to enjoy it. First, though it is imperative that you ensure it is a pleasant and healthy environment in which to spend some time with your loved ones without the extra concern, frustration and worry.