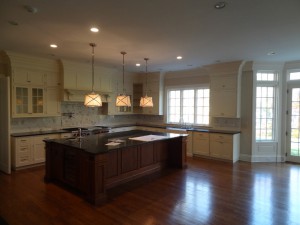 Anyone who has ever owned a home knows that your work is never done. It seems like there's always a project you need to complete. The kitchen and bathroom are two of the most common rooms people tackle. When it's time for you to undertake a major renovation, consider starting in these two popular areas. As you begin your kitchen and bathroom remodeling, focus on a few key areas. If you do, you can increase the value of your home and make these two rooms more inviting and appealing.
Think About Flooring
Think of all the traffic you get through your kitchen and bathroom over the years. It's no wonder your floors get worn out so quickly. It's worth it to spend a little more on a high-quality floor, as you want it to look good and stand up to wear and tear for the next several years. Hardwood is a popular style of flooring in any kitchen. You can also go with laminate, bamboo or even stone. As you move to the bathroom, consider porcelain, ceramic or tile.
Countertops
Not only do you want your countertops to look nice and go well with everything else in the room, but you need it be durable. Granite seems to be the countertop of choice for both kitchens and bathrooms. The great thing about granite is you can get it in an array of colors and designs. If you want to get adventurous, try marble or quartz.
Fixtures and Hardware
Not every part of your kitchen and bathroom remodel has to be a major change or involve expensive additions. Simply changing the cabinet hardware to something more modern can make a huge difference in your room. Also, installing new bathroom and kitchen fixtures can update your rooms significantly.
Your kitchen and bathroom remodeling project doesn't have to be guesswork. Consider these options when you're ready to begin.